Recounting the death of Socrates in Plato's Phaedo, it's said that the proper practice of philosophy is "about nothing but dying and being dead."   As dreams generally blur distinctions between the living and the dead, it seems that, like philosophy, the dreamtime endeavors to engage dreamers in the proper practice of dying and being dead.  Dreams, I therefore contend, are trying to teach those of us who are in physical bodies (and thus still incarnating) how to be in living, ongoing, and imaginally responsible relationships with those who are busy being dead. While teaching dreamers the necessity of dying before we die, dreams help us practice and prepare for death and for all that may follow . . .
We're coming up to that time of year when various traditions from around the world venerate the dead.  It's a time when the veil between the two worlds is said to be thinnest, thereby making it easier for the living and the so-called dead to be in communion.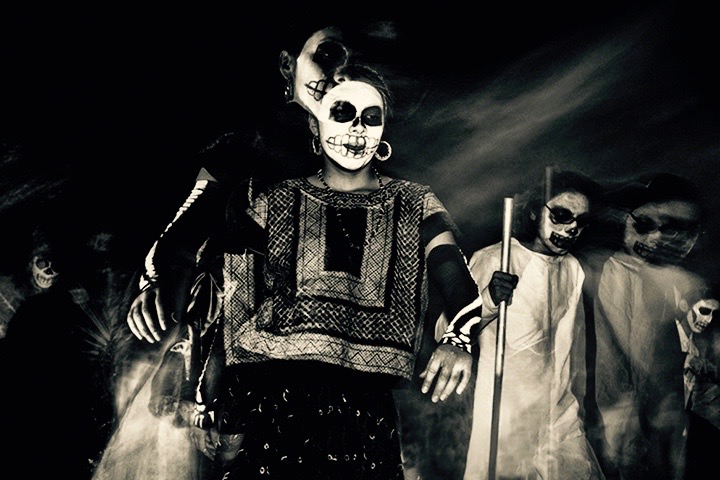 There's perhaps less separation between the living and the dead than is sometimes imagined.  Nonetheless, these traditions not only include the dead — making a place for them in their ongoing living experience — they also celebrate them. Vividly. The Day of the Dead, or Dia de los Muertos, a yearly celebration that takes place in Oaxaca, Mexico is but one example of this viivid tradition.
In honor of world traditions that vividly venerate the dead, I invite you to share any dreams of the dead you may be experiencing.  You're welcome to share current dreams or dreams from days, weeks, or even years past, and they can be what I refer to as  'waking-world' dreams or sleeping dreams.
Simply type your dreams of the dead into the comments section below.
Or if you prefer to share your dreams privately, click on the 'submit private dream' button at the very bottom; I will respond to you privately.