Once upon a time, while making preparations for a retreat that featured the works of James Turrell, our old friend and mentor Robert Sardello posed a direct question to me:
Where does the light of dreams come from?
I'd been secretly chewing on the same question for years. And though there'd been plenty of personal experience and all sorts of direct engagement with the light of dreaming while tending those dreams that made their way into my practice, the question also involved how to talk about it in ways that would not come across merely as pronouncement. So, in the weeks leading up to that light retreat, and not wanting to talk through my own hat, I attempted something of a response.
Revisiting the question now, it's surprising to once again discover how very difficult it is for some folks to see through the content of dreams. Either folks are deliberately and exclusively focused on the contents of dreams (which is fine, of course, so long as folks are aware they're doing this), or perhaps, in the same way that it can be difficult to see the forest for the trees, the light of dreaming is simply too close to be noticed?
Thus it's not uncommon to find things like: "Light represents the truth in dreams," and, "To see a bright light in your dreams indicates that you need to move toward a higher level of awareness and feeling." This last one cracks me up. Like something out of a cartoon . . .
"What are you doing?"
"Moving toward a higher level of awareness and feeling."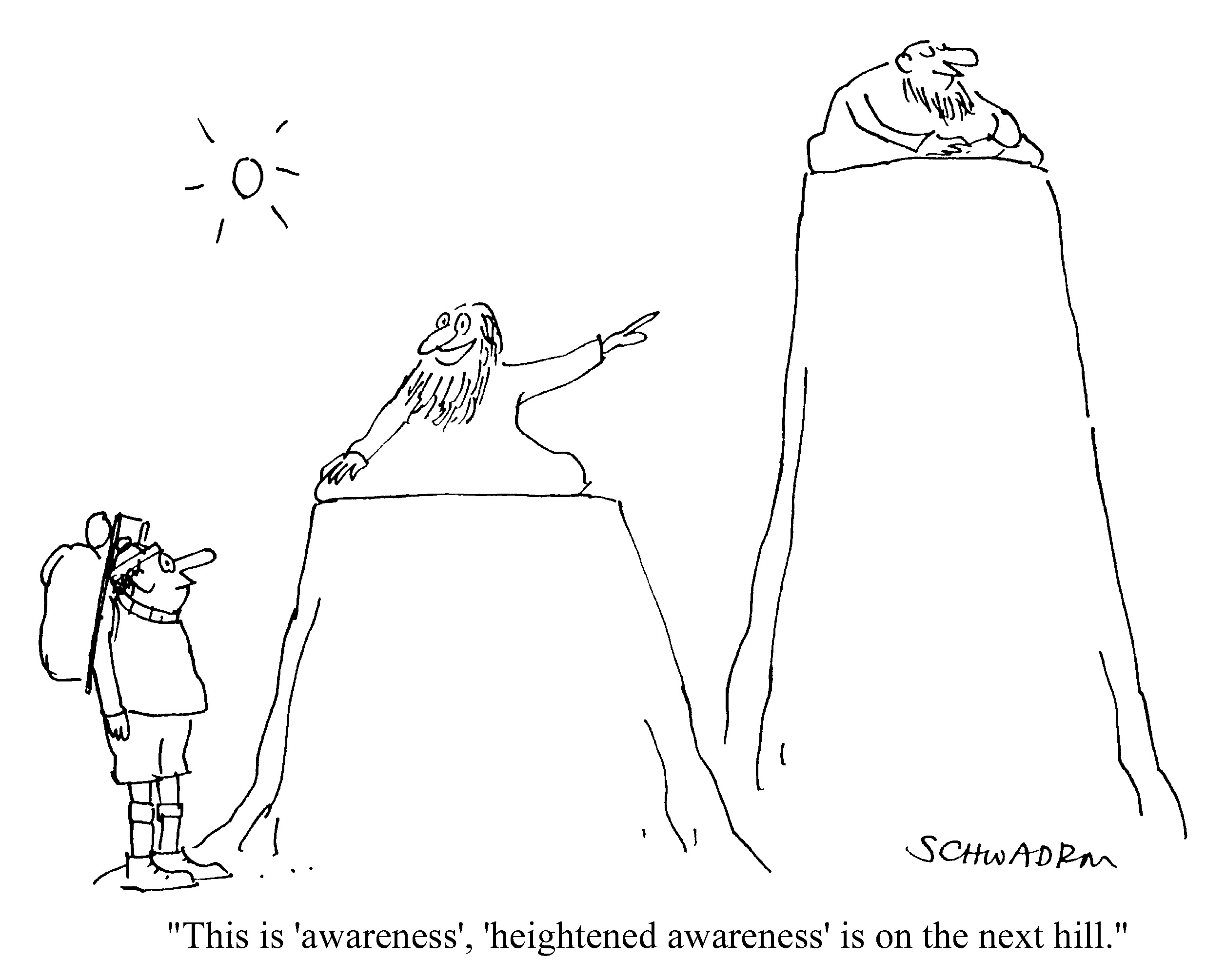 But the light of dreams in Robert Sardello's question is not alluding to the illuminated content of dreams, to seeing a bright light in our dreams; he's asking after the light of dreams, that is, to the source of light and the lit-up phenomenon of dreaming per se. Let's see if we might shed some light on the subject.
"Not a single one of you is brilliant,"
is what my brilliant, bearded and bespectacled high school physics teacher, Mr. Fedorak, delighted in reminding his students, while attempting to highlight the difference between luminous and illuminated objects. Luminous objects like the sun, Mr. Fedorak explained, are objects that generate their own light. The moon, on the other hand, he instructed, was a fine example of an illuminated object because it's only capable of reflecting light. Further, as not one of us was accomplished enough to generate light in the visible region of the electromagnetic spectrum, all of us, according to Mr. Fedorak, and indeed all human beings, fell squarely into the second category, as objects of illuminated light along with the moon.
You remember the light/sight theory involving luminous and illuminated objects that we were taught in high school physics, right? It states that the sun generates enough light to illuminate objects on Earth during the day—blue skies, white clouds, green grass and so on—and that everything seen is as a result of light from the sun reflecting off illuminated objects as it makes its way to our eyeballs. Without light from a luminous source, the theory goes, illuminated objects could not be seen. It is only by reflection that we, as well as most of the other objects in our physical world, can therefore be seen. Without light there would be no sight.
Not So Fast, Mr. Fedorak. We're brilliant after all!
Weirdly, scientists in Japan have recently discovered bioluminescence in humans. And, though it's no where near the amount of bioluminescence emitted by creatures like fireflies and jellyfish — indeed it's a thousand times weaker than the human eye can perceive — researchers have developed a way to record human bioluminescence using ultra-sensitive cameras.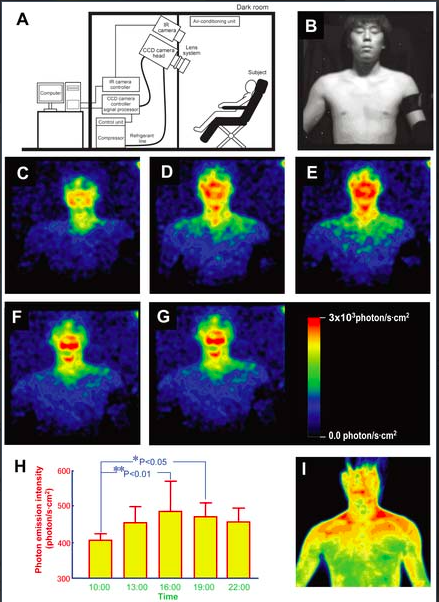 Schematic illustration of experiemtnal setup that found the human body, especially the face, emits visible light in small quantities that vary during the day. (B) is one of the test subjects. The other images show the weak emissions of detectable light during totally dark conditions. The chart corresponds to the images and shows how the emissions vary throughout the day. The last image (I) is an infrared of the subject showing heat emissions.